At the start of this IPL, Royal Challengers Bangalore's captain Virat Kohli said the team would have a new energy this season. An energy that would fuel the unit to work as one and gain momentum. Four matches and four defeats later, where's that energy? Where's that momentum?
After the fourth straight defeat, against Rajasthan Royals, Kohli admitted his unit was stiff, nervous. He said he would still not shy away from tinkering with the XI, till winning ways are found again.
Here are some questions – and statistics – Kohli should mull while figuring out those changes.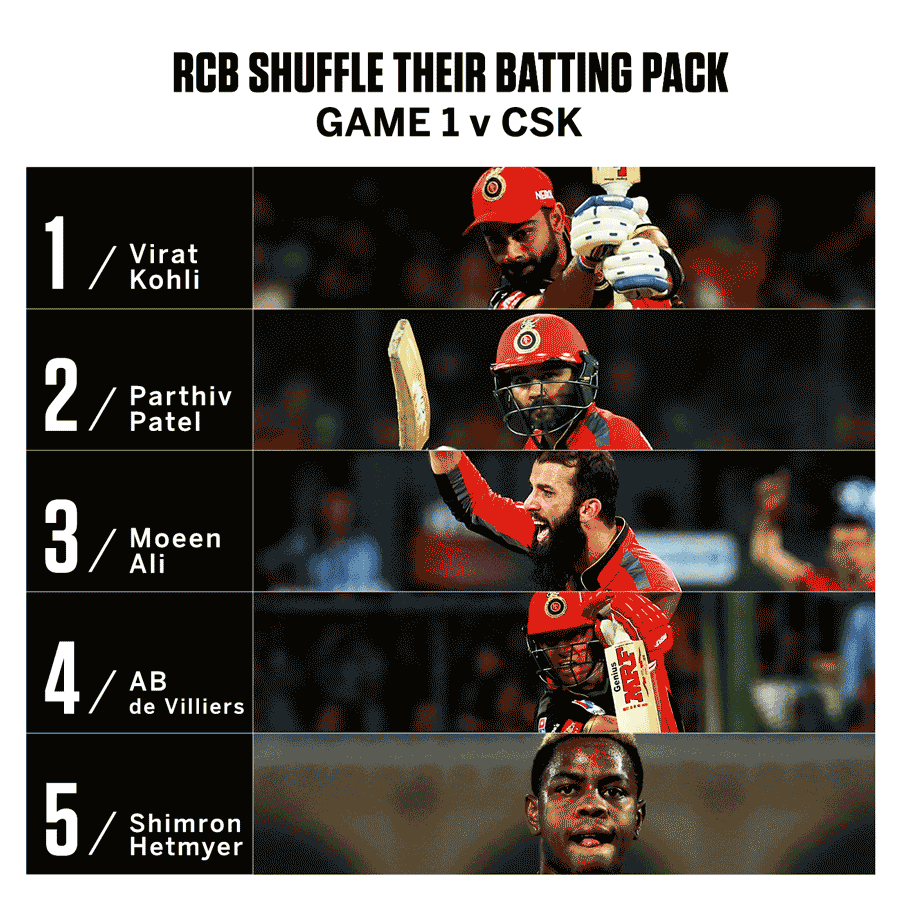 What is RCB's best opening combination?
Virat Kohli, Moeen Ali and Shimron Hetmyer have been rotated as Parthiv Patel's partner at the top, and none of them has played consecutive games in that role. Parthiv, the only one to have played all four games as opener, has begun to reap the rewards of knowing one's role, hitting a 41-ball 67 against Rajasthan Royals. His partners have gone past 15 only once.
But there's an inherent problem with Parthiv's T20 batting. Since March 2017, his Powerplay strike rate of 148.67 is par for the course, but he strikes at only 119.83 after the first six overs. Since he doesn't score as quickly once the field spreads out, the longer he stays, the more pressure is added on the incoming batsmen to up the scoring rate.
Kohli continues to be their most-consistent opener. Since March 2017, Kohli the opener has averaged 36.83. He has lasted beyond the Powerplay in six of those 14 games, and scores at an anchoring strike rate of 122.50 in the first six. If Kohli lasts the last five overs – which he has in four of those 14 games – he strikes at nearly 160. His numbers at No. 3 are slightly superior, but it was as an opener that he had scored four centuries in the 2016 IPL.
Another option RCB can explore is Marcus Stoinis as opener. In the 2018-19 BBL, he struck four half-centuries for the Melbourne Stars while opening, averaging 62.40 in 10 games. Since 2018, Stoinis has averaged nearly 50 as an opener in all T20s, compared to averages of 5.30 as No. 4, 21.10 as No. 5 and 23.40 as No. 6.
What exactly are Hetmyer's and Dube's roles?
One wonders whether the RCB's think tank buys players according to roles that need filling, or whether they try to retrofit players into vacant roles regardless of their primary strengths. The exciting Hetmyer has been carted up and down the order, twice at No. 5 and once each as No. 4 and opener. And he has an average of 3.75 in these four matches.
Which spot could he bat at to have the best chance of turning that average around? He has been dismissed twice against balls turning away and has shown susceptibility against spin on turning tracks. So, perhaps, Hetmyer's best role in the line-up would be to take on the oppositions' seam bowlers. It may mean that he continues as opener – a role where he looked most comfortable in his short innings against Sunrisers Hyderabad (9 off 9) – even if their opponents bowl spin early. That's where his partner comes into the game, perhaps shielding Hetmyer from the spin bowlers.
With Akshdeep Nath providing a solid audition behind the stumps against Rajasthan Royals and showing some form for Uttar Pradesh in the Syed Mushtaq Ali Trophy – including a 44-ball 70 – perhaps he could take over the gloves? And – if RCB don't want to consider Stoinis, as previously mentioned, for the role – Hetmyer could continue as opener, with Kohli as his partner. Yes, it would shelve Parthiv from the XI, but it makes their top order more threatening.
Another concern for RCB is how to best utilise Shivam Dube, the allrounder bought for INR 5 crore who was dropped from the XI after three games.
In those three games, he scored only 16 runs in 17 deliveries. But, in that limited period, Dube showed he has the levers to clear the boundary – like he did against Lasith Malinga against Mumbai. Dube is a big-hitter at the death, but he hasn't had the opportunity to display his full range of strokes given RCB's batting woes. If given a solid base, Dube could well light up the IPL with sixes; he hit Pravin Tambe for five sixes in an over at the Mumbai T20 League and followed it up with another 30-run over in the Ranji Trophy.
Dube is also a seam-bowling allrounder so, if he is brought back, he can play a similar role to Moeen Ali, Nathan Coulter-Nile or Colin de Grandhomme in the lower-middle order, especially when the England and Australia players become unavailable in May.
Where should AB de Villiers bat?
De Villiers batted at No. 4 three times this season before he was promoted to No. 3 against Royals. He looked most threatening against Mumbai, when he scored an unbeaten 41-ball 70 while chasing under lights. Apart from that, de Villiers has also been troubled by spin, especially the delivery that comes into him. Twice he has fallen to the offbreak or googly, and once to an offbreak that didn't turn much.
De Villiers, though, remains most potent at No. 3, especially if the team has got a moderate start. In his last 10 IPL games at No. 3, de Villiers has averaged nearly 46 with a strike rate of more than 152. At No. 3, de Villiers' strike rate of 145 from overs seven to 15 shoots to 269.50 in the final five overs. His numbers are similar at No. 4 as well, but de Villiers' most memorable IPL innings have come at No. 3. Moreover, being one of the two best batsmen in the side, it is imperative that he bats as many balls as possible, ideally from No. 3.
What overseas combination best suits RCB?
Among the overseas players, de Villiers is the only automatic selection in the XI. Using Hetmyer as the second overseas top-order batsman goes against the trends of the IPL, with no other team – barring Sunrisers – investing in two top-order overseas players. Besides, Stoinis' aforementioned numbers as opener also lend weight to the argument to try him in that role.
Perhaps Hetmyer and Moeen – the experiment with opening the bowling and/or batting with him hasn't paid off yet – could be benched for Stoinis and the offspin of Washington Sundar, while an Indian seam bowler could be replaced by the experienced pacer Tim Southee. That leaves seamer Nathan Coulter-Nile out, but he had not joined the squad until Wednesday.
Once Coulter-Nile is good to go, perhaps he could slot into the lower order and they could use Stoinis as opener, de Villiers at No. 3, and Southee as the fourth overseas player. Alternatively, Southee could be left out for Moeen or Colin de Grandhomme as a middle-order pinch-hitting allrounder, but that would make sense only once RCB's pace-bowling unit has found some rhythm.
Either way, time is running out for them to find balance. Coulter-Nile and Stoinis leave for national duty in the first week of May. RCB need to find their best overseas players, and their best XI, at least before they lose some of them at the end of the league stage.